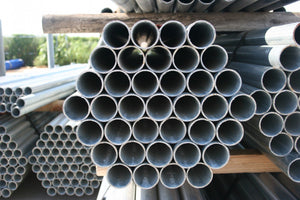 2-1/2" x .055 x 6' Galvanized Pipe Residential
The American Fence Company
SKU: 4065060
Regular price $16.81 Sale
---
This pipe is used on a galvanized chain link fence, typically around residential homes. Secure your home or pool with this 2-1/2" x 6' galvanized pipe residential. After being securely buried 2' into the ground, this pipe is ideal for a 4' fence.
Pipe must be cut down to lengths shorter than 8' to ship UPS. This pipe is cut to customer specifications, please note your desired length during checkout, which will reduce your shipping costs.  Please speak with an America's Fence Store representative.


How the part fits? A 2-1/2" x .055 x 6' fence post is ideal for residential chain link fence applications. It is usually used as line post.
Where is it installed? A 2-1/2" x .055 x 6' fence post is usually installed every 10'. You will typically use a 2-1/2" x .055 x 6' for line post for a 4' residential chain link fence application.
How many do you need? Line posts are spaced every 10' depending on your application. If you have a commercial application, it is not uncommon to have spacing of 8'. A good example when you would want 8' spacing would be when you're using privacy slats or wind screening.
2-1/2"" O.D., 0.055 wall thickness; 8.99 lbs.
All posts should be set the 2' to 3' into the ground depending on your application and location. All posts should be set to the center of the post hole. To have the most secure post, you will want to set all posts in concrete.